Map Ref:  TL 497197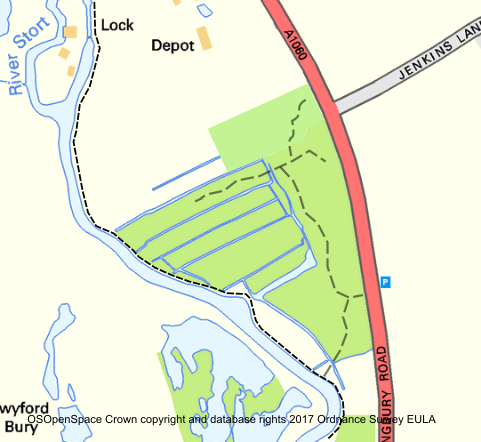 Public Transport: – 800m walk from Bishops Stortford station (BR Liverpool St – Cambridge); head south along the River Stort towpath. Hourly bus service (No 5) from Bishops Stortford station passes the reserve entrance on the A1060.
Dogs allowed if under effective control. Please clean up after your dog.
Access: – Accessible at all times but paths unsurfaced and rough.
Directions:
One mile south of Bishops Stortford, lying between the A1060 road to Hatfield Heath and the River Stort.  It can be entered from the A1060 or from the towpath running alongside the Stort Navigation. No car park on site, park carefully on the road verge opposite.
What to look for:
The low ground has water near the surface all year and there are good areas of sedge and reed, whose tall, dense growth provides cover for birds in summer, and winter. The northern end of the site has developed into mature Alder and Willow woodland.  It is a particularly good area for birds including the Willow Tit.
Yellow Iris and Wild Angelica are just two of the many plants that flower here in summer. The ditches provide an ideal habitat for a range of wildlife including Marsh Marigold, dragonflies and water beetles.
The drier ground has areas of scrubby woodland and chalky grassland close to the road.  The latter supports a good variety of wild flowers including Wild Carrot.