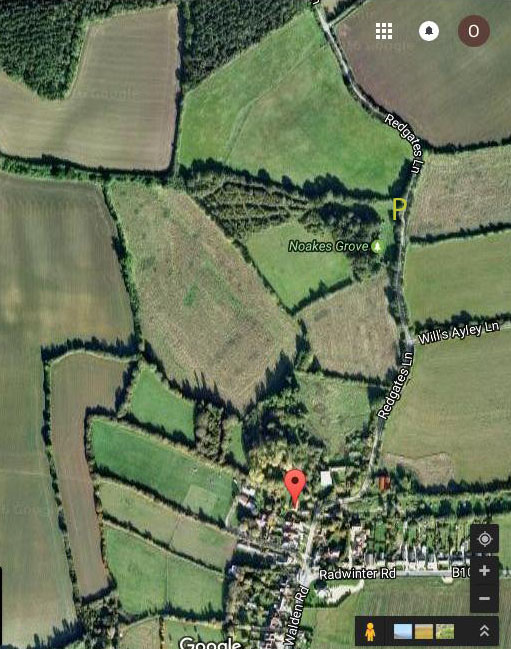 A nature reserve close to Sewards End, The yellow "P" on the map marks the gated (not locked) entrance to car park. The red marker shows where "CB10 2LW" will get you using a satnav. Then go north on Redgates Lane.
Noakes Grove belongs to Organic Countryside Community Interest Company: a not-for-profit organisation that anyone may join as a "friend" (annual subscription £5) or full (life) shareholder (£100 minimum). The smallholding is managed in a completely organic way
We raise sheep and lambs in the meadow. As well as the meadow we have a small ancient woodland, a rough flower-rich field and an area of thorn scrub criss-crossed with grassy rides that possess a marvellous array of wild flowers, including several rarities. It is a truly beautiful place. The public are welcome visit Noakes Grove at any time, on foot and with well-behaved children and dogs. There is a Forest School for very young children, occasional open days to study the wildlife and regular work parties for those willing help manage the nature reserve. Full details on the www.organic-countryside.co.uk website.
Visiting Noakes Grove is free, but maintaining Noakes Grove (just to pay the insurance and tree surgery costs for example) costs a lot. If you enjoy visiting Noakes Grove, please become a "Friend of Noakes Grove" for a donation of £5.00 per year per household. You can join online at www.organic-countryside.co.uk. We'll keep you informed (by email) of special events and when any of our produce (lamb, apple juice) is available for purchase.
Footpaths from Saffron Walden
Events
Saturday 19th January 2019
is our 10th birthday (the anniversary of Organic Countryside CIC's registration as a community interest company).
The foundations of our new barn are now ready and we plan to celebrate with a two-day work party (Saturday 19th & Sunday 20th) to re-erect our donated barn and plant some donated trees in our hedge.
No need to attend the whole time, come when you can.
We can offer hot drinks on the rocket stove, a slice of birthday cake and offer a glass of fizz. Bring your own snacks.
Sunday 17th February 10 – 4.00pm
Sunday 17th March 10 – 4.00pm
What you will need to bring
Suitable clothing, hand tools, if you have them, and a packed lunch. There will be a big fire so foil wrapped potatoes for baking could make a welcome addition for lunch, we will provide hot drinks.
It is very important to bring some good gloves for handling blackthorn and hawthorn that we will fell and burn.
[but note: we do have a stock of leather gloves, hand saws and loppers for those who cannot bring their own]