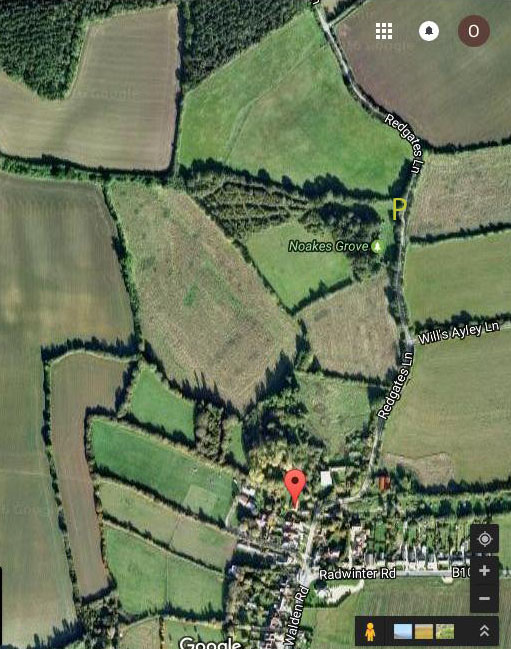 A nature reserve close to Sewards End, The yellow "P" on the map marks the gated (not locked) entrance to car park. The red marker shows where "CB10 2LW" will get you using a satnav. Then go north on Redgates Lane.
Noakes Grove belongs to Organic Countryside Community Interest Company: a not-for-profit organisation that anyone may join as a "friend" (annual subscription £5) or full (life) shareholder (£100 minimum). We aim to manage the reserve sustainably, with a positive impact on wildlife. The dedicated website for Noakes Grove is at https://walden-countryside.co.uk The email address is info@walden-countryside.co.uk
Newsletter
The Latest Newsletter can be seen on the Noakes Grove website here https://www.organic-countryside.co.uk/newsletter.html
Forthcoming Events at Noakes Grove and Kings Field

May 1st: Lambs and Bluebells: Open day at Noakes Grove
Sunday May 1st from 10 am to 4 pm

There should be a good crop of lambs born to out eight pregnant ewes by the end of April and we hope that our attempts to reduce trampling in much of the wood will ensure a good showing of bluebells. So, after missing our usual Spring open day at Noakes Grove during COVID restrictions we are looking forward to this years event.
It's all free (but donations are welcome) and all the usual attractions will be there: puppet shows, guided tours, refreshments, mouse and moth live-trapping, meet the sheep, pond dipping etc.
Digging the dipping pond at Noakes Grove
The new "pond-dipping" pond is next to the Noakes Grove schoolroom. It will be full of water as soon as we have a few days rain.
Inside the school room the little library of wildlife books has been joined by an online computer with a good big screen. It's main function is to allow a group of children to see the microscopic plants and creatures using our digital microscope but we can go online to get more information about the wildlife we find.
The school room is for the use of our organised events (like public open days, birthday parties and the weekly Wild Child clubs). All its electricity is thanks to a solar panel system installed by John Bagley while grants from Waitrose and an Education Services Charity have paid for the pond and all the new schoolroom facilities.
---
We raise sheep and lambs in the meadow. As well as the meadow we have a small ancient woodland, a rough flower-rich field and an area of thorn scrub criss-crossed with grassy rides that possess a marvelous array of wild flowers, including several rarities. It is a truly beautiful place. The public are welcome visit Noakes Grove at any time, and we encourage use by community groups. We also hold occasional open days, wildlife events and regular work parties where volunteers help with conservation tasks – see below for more details.
Visiting Noakes Grove is free, but maintaining Noakes Grove ( liability insurance and regular tree surgery, for example). If you enjoy visiting Noakes Grove, please consider making a donation or becoming a Friend (you can do this online through our website: https://walden-countryside.co.uk
Two requests for visitors with children:
When in the wood, please (everyone) keep to the paths which have no vegetation on them. Trampling off the paths is damaging the bluebell plants and other wild flowers.
Enjoy the pond but please stop children throwing sticks into it.
Footpaths from Saffron Walden