Map Ref: TL 624 332.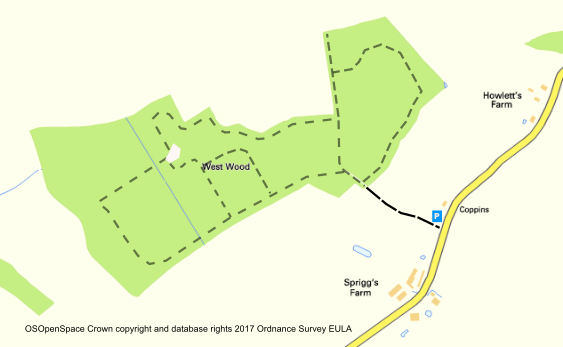 Public Transport; No bus route to reserve. Routes 312, 313 and 6 serve Thaxted. 50 minute walk from there.
Dogs allowed if under effective control. Please clean up after your dog. Please kepp your dog out of the ponds which are the home of Great Crested Newt.
Designation: Site of Special Scientific Interest
Access: Accessible at all times. Paths unsurfaced and can be very wet and muddy after rain.
Directions
Midway between Thaxted and Great Sampford, set back from the B1051. A track leads from the roadside car park to the reserve entrance from the left hand side of the road, one mile north east of Thaxted.
This 58 acre mixed deciduous wood is one of the finest in the area. On chalky boulder clay, it has a history of coppicing dating back to the middle ages. This ceased in the middle of the last century but was resumed by the Essex Wildlife Trust when it acquired the site in 1972.
What to look for:
The speciality of the wood is the Oxlip which is restricted to very small area in Britain, centered on the Essex / Suffolk borders. Other plant species include early Early Purple, Common Spotted and Greater Butterfly Orchids as well as Wood Barley, which is rare in Essex. Pendulous Sedge grows along the rides. The wood has a good selection of nesting birds including Goldcrest, several species of warbler, Stock Dove and Buzzard. It supports good numbers of butterflies including Speckled wood, Brimstone and Ringlet. There are four ponds which have been restored and support Great Crested Newts as well as many dragonflies and damselflies. Large numbers of deer frequent the wood and precautions have been taken to prevent them from browsing the young coppice regrowth and thus stunting or killing the trees; chestnut paling or brushwood fencing is erected around newly coppiced areas to keep them out.
West Wood Camera Trap
We have to keep deer out of the newly coppiced areas with fences, because they would otherwise eat all of the new growing tree shoots and eventually kill the coppiced trees. Deer also eat the wildflowers and prevent them from seeding. The fences mostly work but we do see holes being dug under them, and so a camera trap has been set up to see who is using the holes.
Badgers make the holes;
And the Muntjac deer check out the holes but did not get in this time ( they often do though).
But the fox has no trouble at all;
And some daytime visitors – Fallow deer looking hopefully for the way in
And a fleeting glimpse of a Stoat – over on the right hand edge of the picture
Worked ancient woodlands are now very rare. As part of caring for our natural landscape we do our best to look after these important ecosystems.
More About Woodlands